Give a Little Love 2017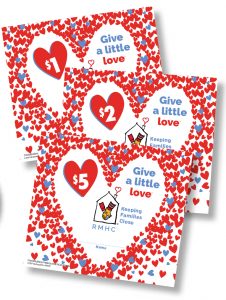 McDonald's® Restaurants of Peoria/Bloomington, Central Illinois Encourage Customers to "Give a Little Love" to Local Ronald McDonald House Charities®
Area restaurants provide support to families staying in the Springfield Ronald McDonald House
McDonald's® Restaurants of Peoria/Bloomington and Central Illinois and each of our local owner-operators will be providing support to Ronald McDonald House Charities® of Central Illinois (RMHCCI) through the annual Give a Little Love campaign beginning January 30.
To "Give a Little Love," customers can donate $1 or more at participating McDonald's restaurants throughout Central Illinois from Monday, January 30 through Monday, February 20. Customers who make a donation will have their names displayed on a paper heart in the restaurant.
One hundred percent of the proceeds will stay local and benefit the families staying in the Ronald McDonald House in Springfield, Illinois. In 2016, more than $245,000 was raised during the Give a Little Love promotion.
The Ronald McDonald House in Springfield keeps families close by providing them with a place to stay and warm meals to eat during a difficult and stressful time in their lives. Located at 610 North Seventh Street, RMHCCI serves more than 400 families each year. In order to serve even more families, RMHCCI depends on the generous support of the community, especially through the Give a Little Love campaign. Support from the community is essential to keeping families close and allowing them to stay at the House free of charge while their child receives medical care.
"Year after year, we at McDonald's, see the incredible support the Ronald McDonald House provides to local families in need, and we love to see the community get involved and help us give back," said Jack Millan, a local McDonald's owner/operator and RMHCCI Board Member. "We can't thank our customers enough for their generous donations. We are truly grateful."