The Peoria House is Open!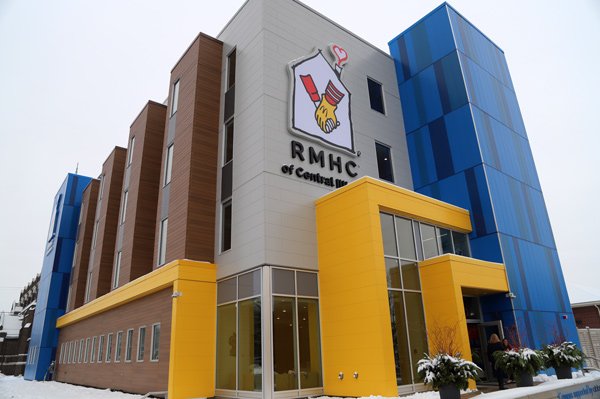 Ronald McDonald House Charities of Central Illinois® is now in Peoria! We are thrilled to more than double our impact with the addition of a Peoria Ronald McDonald House (RMH) in the heart of the Peoria medical district! The new Peoria RMH will serve families with children receiving care at any area medical facility, including OSF HealthCare Children's Hospital of Illinois and UnityPoint Health. We broke ground in September 2018, with the grand opening on December 16, 2019.
"We anticipate the Peoria Ronald McDonald House® will serve over 700 families a year. Thanks to generous donors, over 80% of the funds needed to build the House have already been raised. Now we need your help to raise the final $1.5 million to make this vision a reality." 

– Kelly Thompson, Former CEO
What does the Peoria Ronald McDonald House look like?
The Peoria RMH is about 40,000 sq. ft and four stories. It is located at the corner of Spalding Avenue and NE Monroe Street downtown. The first floor is reserved for community spaces. This includes a large central family/guest kitchen, a 50-person dining room, family room, toy store, game room, arts & crafts room and community room. There is a playground outside with a secure access point. Parking is available in a lot across the street off Spalding.
Check out the amazing playroom located in the Peoria House for our families to use while they're staying with us!

How many families can stay at the Peoria Ronald McDonald House?
The Peoria RMH has a total of 22 mini-suites available when the doors open, which will be located on the second and third floors of the building. Each mini-suite sleeps up to five guests and includes a private bathroom. The fourth floor will be shelled-out for future expansion.
Why is there so much community space planned?
Community spaces are intentional at the Ronald McDonald House. That's because in addition to giving families a place to stay, we want families to have a place to reset and recharge, so they can be the best advocate for their child that they can be. Many RMHC of Central Illinois families say the support they get from other RMHCCI families is invaluable in their journey. These community spaces give families a place to build friendships, celebrate victories and offer comfort to one another.
Is there an area dedicated to pediatric cancer patients?
The second floor of the Peoria House is home to the "The Dax Wing" and open to pediatric cancer patients. Fully sponsored by the DAX Foundation, the wing includes five mini-suites, a sitting area, laundry room and playroom that is separate from the rest of the facility to allow immunocompromised visitors a place of their own. The DAX Foundation was founded by Julie Locke to honor her son Dax, who passed away in 2009 from AML M7 leukemia. The foundation is donating and raising $1 million to build The Dax Wing at the Peoria House.
The First Responders Room is one of five suites that are part of the new Dax Wing in the Peoria RMH.
Who was involved in the Peoria House build?
A 25-person committee of Peoria area residents met for over two years to bring the new House to Peoria. The committee is Co-Chaired by Terry Clark, local McDonald's Owner/Operator, and Julie Locke, Founder of the DAX Foundation. The Honorary Chair is Gordon Honegger, Chairman Emeritus of Morton Community Bank. Design and construction partners include Farnsworth Group and River City Construction.
How can I help?
Everyone can help, even if you are only able to donate a dollar or an hour of your time. Ongoing funds for annual House operations will be needed, at an estimated $1 million each year.
Can I make a corporate donation or a donation in honor of someone?
Through the Adopt-the-House Program, donations may be given to honor, recognize or memorialize individuals, families and businesses or to commemorate special occasions. Specific room donations range from $25,000 to $100,000 and will include a special plaque outside the room to recognize your donation.
How do I make a donation?
Donations can be made online at rmhc-centralillinois.org/donate, or you may mail it to 401 NE Monroe St, Peoria, IL 61603. For more information about sponsorship opportunities, contact the Peoria House...
PeoriaPublicRadio.org: Look Inside Peoria's Newly-Opened Ronald McDonald House...