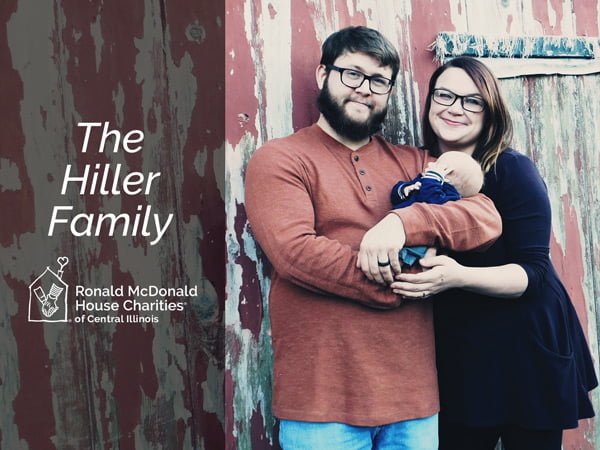 Michael and Kayla Hiller had an appointment when Kayla was 29 weeks pregnant. At this appointment, their doctor discovered that their son was not getting enough blood flow to the placenta, so Kayla was rushed to the hospital. There, she was diagnosed with preeclampsia, and was told she would need to stay in the hospital for blood pressure monitoring for several weeks until her son was born.
On August 13, 2020, Aries Dale Hiller was born, 10 weeks early. He weighed 2 pounds, 10 ounces. Kayla was able to see Aries for only a few minutes before he was taken to the NICU, while Kayla was taken back to her room to monitor her rising blood pressure. Kayla was unable to visit Aries for 5 days due to her condition. Finally, though, her doctor allowed her to visit Aries, and her blood pressure decreased.
Kayla and Michael were living an hour and a half from Springfield. For a week, Kayla's parents drove her to Springfield each day. Finally, a spot in the Springfield Ronald McDonald House became available, allowing Kayla and Michael to move in on August 27th.
"Right away, the staff became like family. They asked us each day how we were and how our sweet baby was doing. Some days were harder than others, but Katie (Springfield Program Director) and other staff members were so kind to us and were there if we needed to vent or cry."
Of her relationship with the other parents staying at the House, Kayla says, "Being a new mom is scary but wonderful at the same time. The other moms and I bonded over our shared experiences, and it was nice to have them at the House to bond with, talk to, and cheer each other up."
Another highlight of staying at the Ronald McDonald House was the provided meals. Kayla explained, "No one knows how difficult it can be to remember to eat or make time to get food when you are going back and forth to the hospital every day. Having prepared food waiting for us at the House was a blessing. We could focus solely on seeing our child.
Kayla and Michael stayed at the Springfield Ronald McDonald House for about two months. Aries is a happy, healthy, and growing boy!