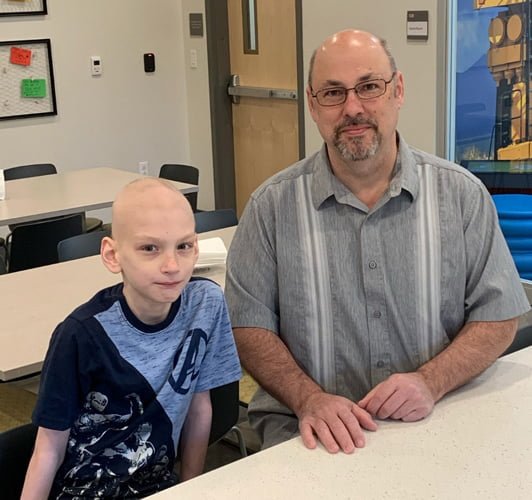 Ten-year-old boys are known for being mischievous and full of life. They may spend their days running outside and then immersing themselves in hours of video games on the couch before eating dinner with their families and going to bed, only to start the process all over again the next morning.
If you were to meet Nash, you would find that he is a mischievous ten-year-old who loves video games and eating dinner with his family. Unfortunately, Nash was diagnosed with neuroblastoma and is receiving treatment at the St. Jude Clinic in Peoria, which is over an hour away from his home. Thankfully, the nurses at St. Jude told Nash's dad about Peoria Ronald McDonald House®, which is where they lived for 6 weeks while Nash received regular treatments.
Nash won the hearts of our staff and volunteers over, and he quickly became known as the House's "resident food critic", always chatting with our Guest Chefs while they prepared meals and sharing both his opinions and his gratitude. You could often find Nash and his dad (and mom and brother!) spending time together in the dining room, eating meals together. Nash's dad also utilized our family kitchens in the House. He enjoys cooking and appreciated the availability of our family kitchens provide, which provided him a space to cook meals on his own schedule, whenever he wanted.
As mentioned, Nash is an avid video gamer. If he wasn't chatting with our staff and volunteers, he could be found in our Komatsu Game Room. Quite competitive, Nash was always quick to engage other residents in a friendly competition!
Nash's dad said, "The Ronald McDonald House has been a bright spot in our difficult journey. The staff and volunteers are positive and always eager to help out. I don't know the donors, but I surmise they have a vision of outreach and a heart for families with children who have medical needs. Thank you!"