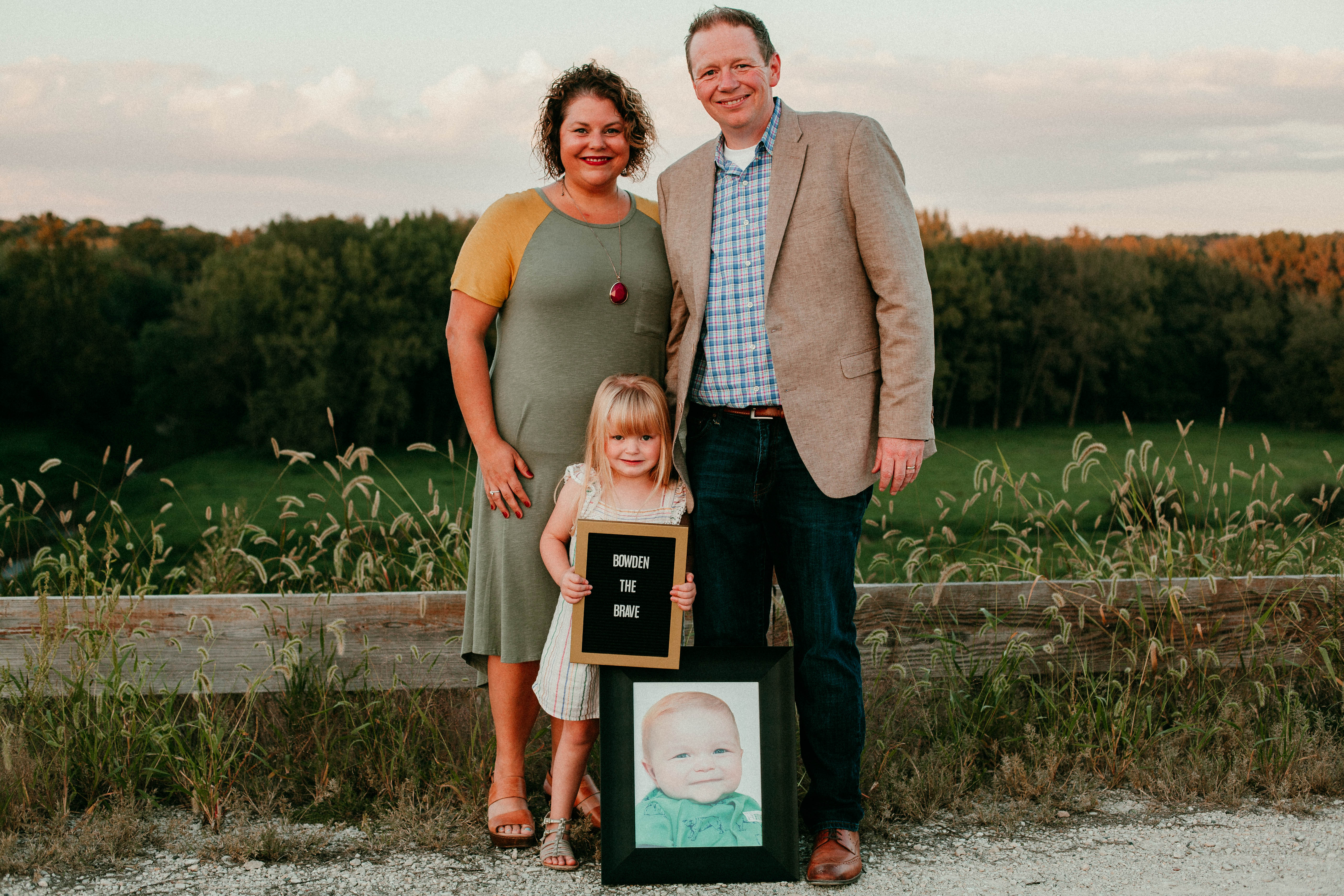 Pictured are Christine and Adam Simmons with their daughter Harper and a photo of their son Bowden. The Simmons Family are RMHCCI Ambassadors & Spokespersons for the Peoria House Build.
In February 2016, while living in the suburbs of Chicago, life seemed perfect for the Simmons family. They had two beautiful babies – Harper (their 1 ½ year old sassy baby girl) and Bowden (their sweet son who was only three months old). Then Bowden started having some common cold symptoms that sent them back and forth to the pediatrician. Over the course of 4 days, things turned progressively worse. When they noticed that his breathing was becoming more labored, their pediatrician recommended they take Bowden to the ER. From there, they were quickly transferred to Lurie Children's Hospital in downtown Chicago.
Kindness Always, Even in the Toughest Journeys
Bowden was diagnosed with a very rare autoimmune disorder called Hemophagocytic Lympho Histiocytosis, also known as HLH. A quick way of explaining HLH is that it's an overactive immune disorder where your white blood cells overreact to illnesses. They don't stop at attacking the virus – they go after your organs and everything else, too. Since HLH is treated like cancer, Bowden was immediately started on a regimen of chemotherapy and high dose steroids. The Simmons also moved into the Ronald McDonald House at Lurie's, just three blocks away from the hospital so they could stay close to Bowden and the care he needed.
About 4 months into treatment, while Bowden was preparing for a Bone Marrow Transplant, the Simmons were dealt more crushing news. Bowden also had Acute Myeloid Leukemia. At the time, Bowden was the only case in the world to have both HLH and Leukemia. It also meant that the Bone Marrow Transplant couldn't be done at that time. They had to start treatment over. He responded beautifully again – even earning himself a stay with his family at the Ronald McDonald House. They went to Navy Pier, got his caricature done, and then that night… he spiked a fever. They were back in the ER by 7 am the next morning to learn that Bowden had a virus and he was readmitted. Shortly after being readmitted as a patient, Bowden relapsed, and another aggressive regimen was started, yet his condition continued to get worse. In the early morning hours of August 8, 2016, Bowden passed away with Adam and Christine by his side.
Keeping Our Family Close
Throughout Bowden's 6-month fight, and Adam and Christine's fight to save him, they lived at the Ronald McDonald House in Lurie. This not only got them off the chair and couch in the hospital room, but they were able to stay close to Bowden and spend time with their young daughter Harper who had been staying in Peoria, IL with family.
"One of the hardest things about being in the hospital those four months was being away from Harper," says Adam. "She was and still is the apple of my eye – as was Bowden – but, being separated from her at a young age, it crushed both of us. Her godparents would bring her up every week to the House – even if it was just a couple hours."
"She was rarely allowed in the hospital to visit her little brother," continued Christine. "The House in Chicago is where she came to know where we lived and where her home was. She loved the playroom, and the cookies... she really, really loved the cookies!"
Throughout the entire journey with Bowden, Adam and Christine found they could count on the Ronald McDonald House. The staff and other families became like family to them, they got to know one another and enjoyed the time away to talk and get refreshed. Adam was even able to use the House as his remote office.
The Value Behind the Ronald McDonald House
"It's so hard to take care of a little kid. It's hard. It's taxing. Taking care of Harper in our own home, that's taxing but to try to take care of a child away from your home, and for an extended period of time, it's just a mental and physical drain," said Adam. "Until you've done it, you just don't understand," he added.
"Having the House kind of relieves that pressure and gives you a place to be in a normal kind of situation with your family," Adam said. "Then there's the financial aspect," he added. Adam was very lucky to have a boss that supported him and let him work remotely with a flexible schedule. "The House had a number of areas where I could work so we did not have to take FMLA, which relieved a tremendous amount of the financial burden and stress. I could just focus on Bowden and Christine and Harper. It's just an amazing charity. I just think the world of it," Adam stated.
On to their "Now What"
"The reason we're supporting the Ronald McDonald House as a spokes family is that, and I think both of us feel this way, so this happened to us… what do we do now?" shared Christine. "We have to do something. Sadly, unfairly, our children, nieces and nephews, grandkids, brothers and sisters… they get sick, just like Bowden did. While we are blessed to have a wonderful children's hospital in Peoria, we as their loved ones need a place to call home, a place that will help us help them."
"Peoria is really becoming a medical hub, at least in terms of the OSF HealthCare Children's Hospital of Illinois," says Adam. "I recently read a statistic that 90% of the world's top children's hospitals have Ronald McDonald Houses attached to them in some capacity. Clearly, we have one of those hospitals. We're so very blessed to have had the House we did and are very passionate about bringing this to Peoria."