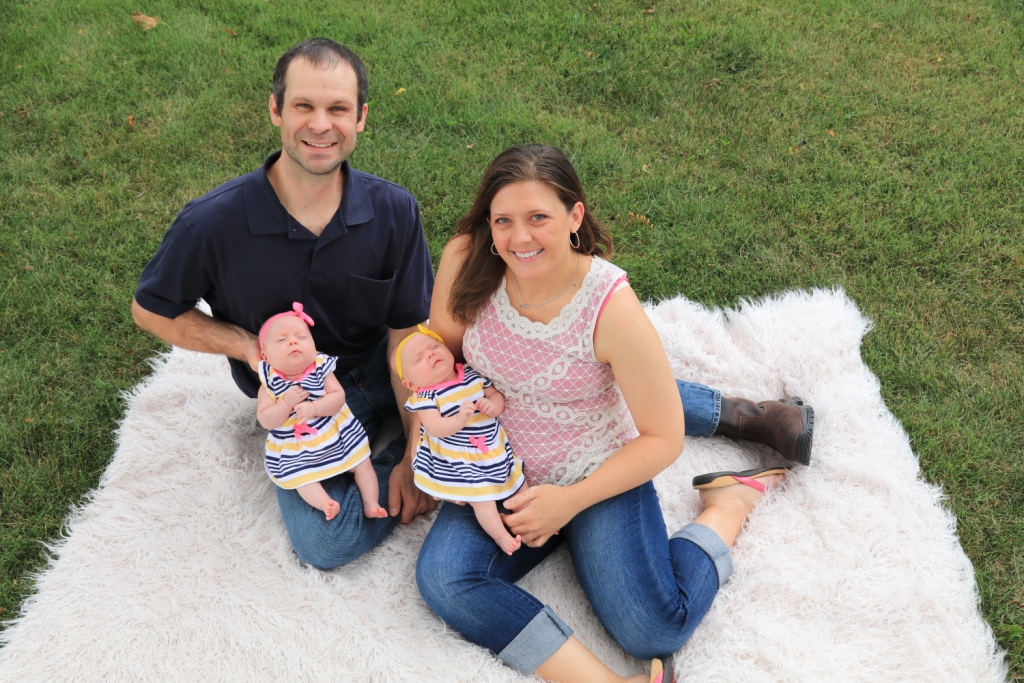 Pictured are Jamie and Craig, with Allison and Jillian doing well at 16 weeks in August of 2017.
Our 2017 Winter Mailer features to story of Jamie and Craig and their stay at the House when their twin daughters were born prematurely. Below is Jamie's story in her own words.
In the early morning hours of May 1, 2017, our world completely changed. I was only 27 weeks along in my pregnancy with twin girls, when my water broke. My husband and I arrived at the hospital in Springfield, fearing the worst. Two days later, our girls were born on May 3, 2017. They were so tiny with Allison weighing 2 pounds 3 ounces and Jillian weighing 2 pounds 9 ounces. Both girls spent over 50 days in the Neonatal Intensive Care Unit (NICU). The evening I was released from the hospital we went directly over to the Ronald McDonald House (RMH) in Springfield where we were greeted and quickly checked in. From the moment we walked in the door everyone was so helpful and supportive.

For the next eight weeks the RMH became our home away from home. Craig was still working full-time and was able to visit on weekends and stay at the House while visiting. It was comforting to be so close to the hospital knowing that I could quickly be by the girls' side if needed at any time of day. It was amazing to watch our girls grow stronger every day, and I feel that my continued presence made that possible. All of the volunteers were comforting, always asking about how the girls were and if we needed anything. It was also nice to have other families in the House going through the same things we were and to be able to share stories and celebrate the little successes our children were making. The House had everything that we needed free of charge including toiletries, laundry supplies, snacks and so much more. The guest chefs that prepared meals throughout the week were wonderful. It was nice to come home in the evenings to a hot, home-cooked meal-- just one more amenity that took a lot of the worries off my mind. All of this is possible due to the generous donations RMH receives from the community. It seemed like every day someone was dropping by fresh flowers, fresh fruits, donuts and even handmade quilts and toys for siblings that were staying in the House. All of these things meant so much during our stay.
We are already talking to the girls about the RMH and will in the future as well so they know how important it is and how the House helped our family when we needed it most. We plan to pay it forward as the girls get older by participating as guest chefs and making donations to the House to help other families that are in similar situations that we found ourselves in when they were born. We hope you will join us in sharing the spirit of the season by giving a gift or donation to the House this winter.