Executive Board Members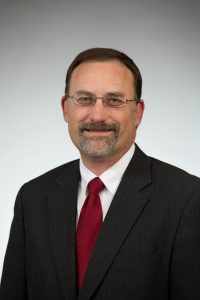 Don Forrest, Chair
Business Development Manager, Farnsworth Group
Don Forrest is a Business Development Manager with Farnsworth Group, a national professional architecture and engineering firm.  He has been with the corporation for 23 years, serving primarily in the Peoria, IL office.  Forrest grew up in a rural community in Central Illinois, graduated from Illinois State University with a degree in geography, and performed graduate work in American history.  He has served on a number of boards and committees including the Greater Peoria Economic Development Council, Peoria Area Chamber, Community Foundation of Central Illinois, Workforce Development, Peoria Area Shared Services Forward, Rural Partners, Big Brothers Big Sisters, and many other local, regional, and statewide organizations.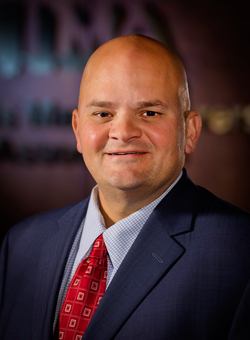 Mark Denzler, Vice Chair
President & Chief Executive Officer, Illinois Manufacturers' Association
Mark Denzler is the President & Chief Executive Officer for the Illinois Manufacturers' Association (IMA), a statewide advocacy organization representing nearly 4,000 member companies and facilities.
Prior to the IMA, Denzler served in various posts including overseeing Illinois government affairs for State Farm Insurance. He served as director of government affairs for the IMA and was a legislative analyst in the General Assembly focusing on taxes, education and transportation. Denzler acted as liaison for the House Republican Caucus to Governor Edgar's Eikenberry Commission on School Funding.
Denzler was appointed by Governor Pat Quinn and reappointed by Governor Bruce Rauner to the Illinois Workers' Compensation Advisory Board. He served on the Board of Directors for the Midwest affiliate of St. Jude Children's Research Hospital, Lincoln Public Library, Lincoln Library Foundation (president), and currently sits on the National Public Affairs Steering Committee for the National Association of Manufacturers. He was a 2015 selection as an Edgar Fellow at the University of Illinois and a graduate of the inaugural class (2015) of the Crain's Chicago Business Leadership Academy.
Denzler is a 1993 graduate of Illinois Wesleyan University and currently lives in Springfield with his wife (Debbi) and son (C.J.).
Mike McGraw, Secretary
McDonald's Owner/Operator
I was born and raised in the small town of Litchfield, Illinois where my parents, Rick and Dona McGraw, opened their first McDonald's restaurant in 1979. I worked in the restaurants through high school and went on to Illinois Wesleyan University where I graduated with a degree in Business. From there, I went to work as a loan officer with a local bank, and worked in the grill area at one of our restaurants on Saturdays.
In 2008, I entered the Next Gen program and became an approved operator in 2010. My Dad and I ran the business together from that point until 2018, when he passed away, and that time with him is something I truly cherish and that we enjoyed so much together. In that time, I have served on the operations team and also chaired the people team for three years in the Chicago Region. Today, I own and operate 9 restaurants in the Springfield, Illinois area, where I live.
The most important things in my life are my faith and my family; my wife Juliana, my three sons Mason, Eli, and Connor, my father and mother, my two sisters Jenna and Christa, and my brother-in-law Rich.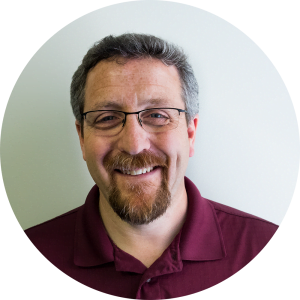 Christopher Setti, Vice Secretary
Chief Executive Officer, Greater Peoria Economic Development Council (GPEDC)
Chris is responsible for the successful development, implementation, measuring and sharing of Greater Peoria's regional economic development strategy through positive partnerships with local, regional, state, and federal public and private partners. Chris has worked in the economic development field since 2005. He worked for the City of Peoria for twelve years, the last five of which were serving as the Assistant City Manager and Director of Economic Development. He joined GPEDC in early 2018. Prior to his work in economic development, Chris spent 10 years in social services as a program manager and executive leader.
Chris has a Bachelor of Arts in Government and International Relations from the University of Notre Dame and his Master Degree in Public Administration from the University of Colorado. Chris and his wife, Eileen, have two daughters and live on the West Bluff of Peoria.
Tolly Ebbing, Treasurer
Director of Business Operations, Facilities Division, Memorial Medical Center
Tolly is a native of Versailles, Illinois. She graduated from Illinois College with a B.S. in finance and from the University of Illinois at Springfield with a Master's in Business Administration. Tolly has been with Memorial Medical Center, an affiliate of Memorial Health System, since September 2009. Tolly has worked as Senior Accountant in the finance division, as well as Finance Manager of Cardiovascular and Emergency Services. She currently serves as Director of Business Operations for the Facilities Division. Tolly joined the Ronald McDonald House Board in January 2020 where she serves as the Board Treasurer. Tolly and her husband Alex reside in Mount Sterling, Illinois with their two kids, Boyd and Greer.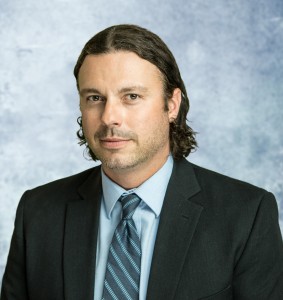 Jamie Baird, Vice Treasurer
Program Manager/US Engineer, Levi, Ray & Shoup, Inc.
Jamie Baird is a Program Manager/US Engineer at Levi, Ray and Shoup, Inc. within the Web Solutions® division. He has spent the majority of his life in Central Illinois where he graduated from Robert Morris University and met his wife, Stephanie. They have a daughter, Grace, and a son, Wesley. Jamie joined the board in May 2015.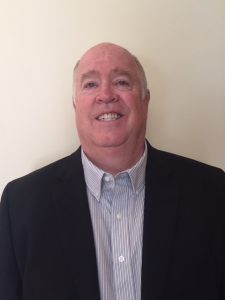 Terry Clark
McDonald's Owner/Operator
Terry Clark and his family own 16 McDonald's Restaurants in the Peoria, IL area. Terry has been working for McDonald's 48 years. Having worked his way up through management and supervision to eventually being a McDonalds Owner in 1982. Terry has served on multiple non-for-profit Organizations as well as McDonald's Committee's. Terry and Nadyne have been married for 45 years and have three children and five grandchildren. Along with Nadyne, their son and daughters are also heavily involved in the McDonald's business in central Illinois. Serving and helping others has always proved to be a blessing for the Clark family. Terry is serving as the co-chair for the Peoria Ronald McDonald House Capital Campaign, and he has been heavily involved in charity work through his church in Peoria as well.
Board Members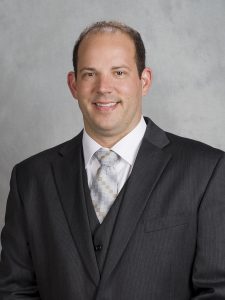 Justin Ball
Vice President for Enrollment Management, Bradley University
Justin Ball is the Vice President for Enrollment Management at Bradley University and has a passion for promoting access and affordability to higher education. He serves on the board of the Peoria Area Chamber of Commerce and is an active member at Redeemer Lutheran Church. Justin was born in Peoria and grew up in Canton, IL. He earned his M.B.A. from St. Ambrose University, Ph.D. in Educational Policy and Leadership Studies from University of Iowa, and is a lifelong learner. Justin lives with his wife, Jessica, and daughter, Chloe, in Mapleton, IL.
Lindsay Bentivegna
Policy Staff Attorney & Chief Privacy Officer, IL Department of Juvenile Justice
Lindsay Bentivegna is the Policy Staff Attorney and Chief Privacy Officer at the Illinois Department of Juvenile Justice. She is a native of Palatine and moved to Springfield a decade ago. Lindsay began her involvement with the Ronald McDonald House Charities twenty years ago while a member of Alpha Delta Pi Sorority at Indiana University. For the past three years, she has volunteered on the Golf Classic Committee. In addition to serving on the Board, Lindsay is an active member, and Past President of the Junior League of Springfield and a member of the Illinois State Bar Association. When she's not working, Lindsay enjoys cooking, reading, and spending time with her family and rescue dog. She joined the Board in January 2021.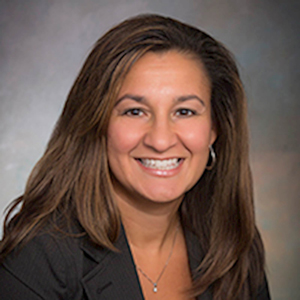 Mina Biggs
Vice President of Human Resources, Hanson Professional Services Inc.
Mina Biggs joined Hanson in 2015 as vice president of human resources. She oversees the human resources team and is responsible for the direction of the firm's talent management strategies. Her areas of expertise include HR strategy; leadership development and coaching; talent management, including succession planning; talent acquisition; change management; organization design; merger and acquisition integration; performance management; employee relations; and compensation and benefits.
Prior to joining Hanson, Mina was a human resources staff manager at Allstate Corp. in Northbrook, Illinois, and a director of human resources at financial service firm UBS Global Asset Management in Chicago.
She earned a bachelor's degree in management with an emphasis in human resources from Northern Illinois University (NIU) and an executive master of business administration from the University of Illinois at Chicago. In 2013, she received NIU's College of Business Alumni of the Year Award from the Department of Management.
Mina joined our Board of Directors in July 2019.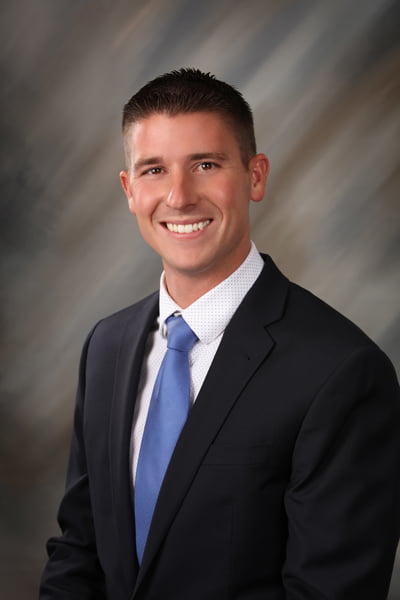 Cody Gerdes
Vice President of River City Construction, LLC
Cody Gerdes is a Vice President with River City Construction, LLC in East Peoria, IL. He serves in a role that allows him to work with the project teams to deliver successful projects in the greater Peoria region. Cody graduated from Bradley University in 2006, from which he began his career with River City. Through his years at River City, he has served and been actively involved with many community agencies throughout Peoria. Cody lives in Eureka, IL with his wife, Kristin, and their four children, Cole, Cooper, Kenzie, and Kylie.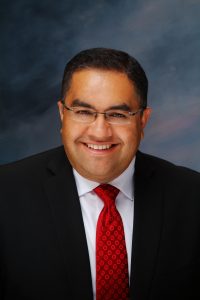 M. Jawad Javed, MD, FAAP
Neonatologist—Division Head / Medical Director, OSF HealthCare Children's Hospital of Illinois
Jawad is the Division Head and Medical Director of the Neonatal Intensive Care Unit at the Children's Hospital of Illinois.  A native of the Midwest, Jawad grew up in Northwest Indiana and has been a resident of the Peoria community for the past decade.  He completed his pediatric residency training in Peoria, IL and his neonatal fellowship at Indiana University School of Medicine.
Jawad is tremendously committed to newborn care and improving outcomes in this population.   He has been involved in the education and research of pediatricians over the past decade both regionally and nationally.  In addition, he sits on numerous faculty committees on scholarship, quality, research, and patient outcomes both at the Children's Hospital of Illinois and the University of Illinois College of Medicine.  Jawad is an avid Chicago sports fan (Cubs, Bears, Bulls, Blackhawks).
Jawad resides in Dunlap, IL with his wife, Zohra, who is also a pediatrician in the Peoria community. They have 1 daughter (Mahek) and two sons (Humza and Zayan). He is very excited and humbled to be selected to be a new member of the Board of RMHCCI.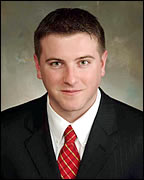 Brian Jones
Attorney, Sorling Northrup
Brian Jones is a shareholder attorney at Sorling Northrup with a transactional practice including the areas of banking, real estate and entity formation. He is a graduate of the University of Illinois at Urbana-Champaign where he received his J.D., in addition to a B.S. and MBA, both in finance. Brian and his wife, Kristi, live in Springfield with their two daughters, Hannah and Sydney. Brian joined the Board in May 2015.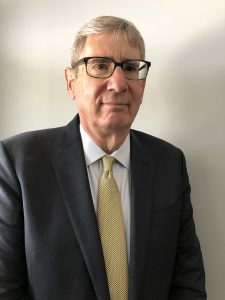 David Matthews
Retired Banker, Washington, IL 

David Matthews is a recently retired community banker from Prophetstown located in northwest Illinois.
For over 30 years, Dave was Executive Vice President and a member of the Board of Directors of a $600 million community bank. Upon retirement, he and his wife, Cathy, relocated to Washington, Illinois to be near their family and 5 small grandchildren. Additionally, he served for 25 years as President of a Community Foundation, helped to form an Education Foundation for the local schools and served on a number of boards and committees of various local community organizations.
Dave is a graduate of Illinois State University majoring in Economics and accounting. Dave and Cathy are members of Connect Church in Washington. They both are very much looking forward to being a part of Ronald McDonald Charities, a great organization serving others.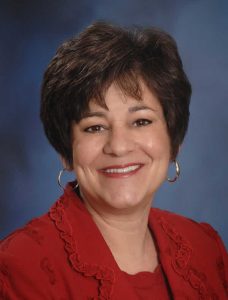 MaryBeth Miller
Operations Manager, HSHS St. John's Hospital, Women and Children's Center
I began my career at St. John' in 1985 as a staff nurse in the neonatal intensive care unit as a staff nurse. Through the years following I took on various roles and responsibilities including charge nurse, transport nurse, assistant manager and neonatal outreach educator. I was the NICU nurse manager for 8 years just prior to accepting my current position.
As the operations manager I support the leadership team in the Women and Children's Center. This includes pediatric/PICU, NICU and the Women and Infant Center (labor and delivery, OB intermediated care, OB emergency department and mother baby units). In addition, I am the nursing clinical lead for the NICU renovation project.
My career has been rich and varied and so rewarding, but the babies and their families are truly my heart and always will be.
My husband Scott (deceased) and I have three adult children: Eric who lives in Denver, Allison (husband Steve and daughter Claire) who lives in St. Louis and Meredith who lives in Rochester, IL. My free time is spent reading, gardening, birding and just spending time outdoors with friends and family.
Jordan Powell
Senior Vice President, Illinois Health and Hospital Association
Jordan is the Senior Vice President of Health Policy and Finance for the Illinois Health and Hospital Association (IHA) and is responsible for providing analytical leadership on strategic policy, payment system, health equity and healthcare reform issues affecting hospitals and health systems.
Prior to joining IHA in December 2020, Jordan served as President and CEO of the Illinois Primary Health Care Association after previously serving as the organization's Senior Vice President of Public Policy and Governmental Affairs beginning in 2013. Powell began his career in policy when he was selected for the prestigious James H. Dunn Fellowship within the Illinois Governor's Office.
Jordan is a graduate of the University of Notre Dame, where he received his Bachelor of Arts degree in political science while he was also a member of the Fighting Irish track team. In addition, he holds an MBA from the Olin Business School at Washington University in St. Louis.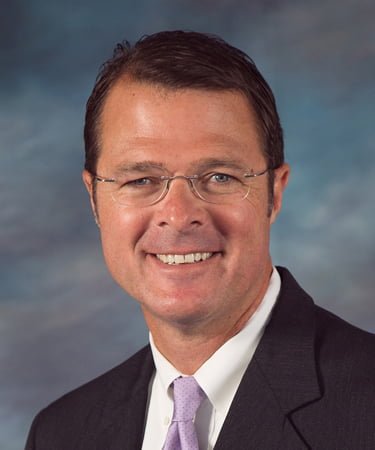 Mark A. Tyrpin
President, Mercantile Bank
Mark Tyrpin serves as President of Mercantile Bank, a United Community Bank, located in Quincy, IL and Palmyra, MO. Mark began his career in banking in 1989 and received his MBA from Quincy University in 1993. In addition to his banking and community leadership, Mark also shares his vast knowledge of banking and finance as an instructor at Quincy University, John Wood Community College, and the Illinois and Wisconsin Community Bankers Associations.
Mark currently serves as Board Member and Vice President of the Richard A. Perritt Charitable Foundation, located in Chicago, IL. The Richard A. Perritt Foundation is one of Illinois' largest not-for-profit family foundations granting $1,500,000 each year to Illinois not-for-profit entities, with emphasis on medical research and social programs for youth and families.
Mark and his wife, Beth reside in Quincy, IL where they have raised their four children: Bryan, Elise, Nathan and Ian. Mark has served on numerous boards and committees over the years and joined the RMHCCI Board in January 2021.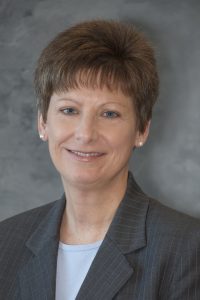 Julie Welch
Vice President, Chief Nursing Officer, OSF HealthCare Sacred Heart Medical Center 
Julie Welch is the Director of Children's Services at Children's Hospital Of Illinois. After moving around the United States and being fortunate to have been part of some prestigious children's hospitals such as Johns Hopkins Children's Center and Children's National Medical Center, three years ago she returned to OSF HealthCare System where she began her nursing career. She is active in various nursing organizations and community activities. She began her relationship with the Ronald McDonald House Charities as a volunteer, then a board member of RMHC of Northwest Florida. She is excited to be a new member of the Board of RMHCCI.
Our Staff at Ronald McDonald House Charities of Central Illinois...
Our Family Advisory Committee at Ronald McDonald House Charities of Central Illinois...