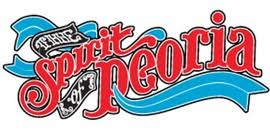 Join us on Wednesday, August 14, 2019 in Peoria, Illinois to cruise into the Grand Opening with us on the Spirit of Peoria!
Proceeds from this event benefit the new Peoria Ronald McDonald House®. This event will include live music from BraziLioniares, a meal and a wonderful time for all on the water!
Tickets are $50 each; this event is limited to 200 guests.
Doors open at 6:00 p.m. Dinner served at 6:30 p.m. Cash bar on board.
Menu options include the following:
Hamburgers | Hotdogs | Smoked Brisket
Baked Beans | Cole Slaw | Pasta Salad | Potato Salad
Corn on the Cob | Watermelon | Brownies & Cookies
Iced Tea | Lemonade | Water
For questions and additional information, please call (309) 401-2525.