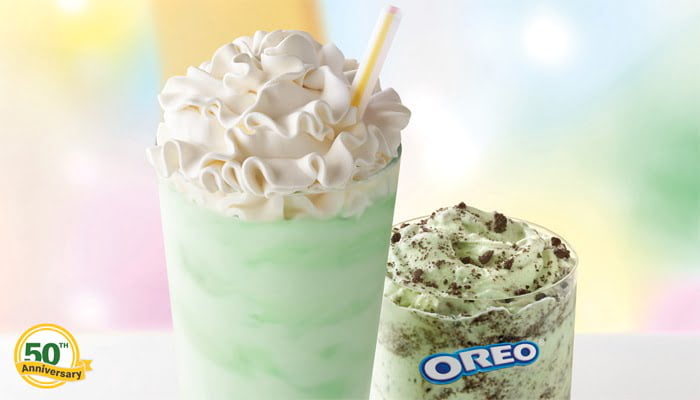 The first green of spring is right around the corner! McDonald's Shamrock Shake® will return on February 19, 2020, marking the 50th anniversary of the legendary treat. To celebrate, McDonald's is taking the Shamrock Shake nationwide for the first time since 2017 and introducing the new OREO® Shamrock McFlurry® for a limited time.
In addition, 25 ¢ from every Shamrock Shake or OREO Shamrock McFlurry will be donated to your local Ronald McDonald House Charities of Central Illinois®!
This year, customers have two different ways to enjoy the craveable Shamrock taste they know and love — how lucky is that?
The one and only Shamrock Shake features creamy, vanilla soft serve blended with our unmistakable Shamrock flavor and topped with a whipped topping for a delicious minty treat.
The new OREO® Shamrock McFlurry is a twist on a fan-favorite, featuring creamy, vanilla soft serve with our unmistakable Shamrock flavor and OREO® cookie pieces blended throughout for a delicious minty-chocolaty dessert that super fans and new fans alike can enjoy.
"We've been serving the iconic, cult-favorite Shamrock Shake for 50 years and it's become synonymous with McDonald's ever since," said McDonald's Vice President of Menu Innovation, Linda VanGosen. "We're excited to serve up a new way to experience the one-of-a-kind Shamrock flavor in our new OREO Shamrock McFlurry. Our chefs worked to get the perfect balance of OREO cookies and mint for this new delicious dessert. We can't wait for customers to get a taste this spring."
Shamrock enthusiasts can experience the luck of the 50th Shamrock Season at McDonald's from February 19 to March 17 at all participating restaurants nationwide.
Read more about the 50th anniversary here...
The Legacy of the Shamrock Shake
The Shamrock Shake was created in 1967 by Hal Rosen, a Connecticut McDonald's Owner and Operator who made the delicious, mint shake in celebration of St. Patrick's Day. It later debuted in select locations across the U.S. in 1970, and was an instant success.
In 1974, sales from the shake helped to build the very first Ronald McDonald House in Philadelphia. The mission began when the daughter of a Philadelphia Eagles player was being treated for Leukemia. Together with with a local McDonald's Owner and Operator Hal Rosen, McDonald's founder Ray Kroc, the Children's Hospital of Philadelphia and the Philadelphia Eagles, the family raised enough funds through Shamrock Shake sales to help open the first Ronald McDonald House as a way to keep families close during difficult times.
Read about the 50-year history of the Shamrock Shake here...
OREO® is a trademark of Mondelēz International group, used under license.