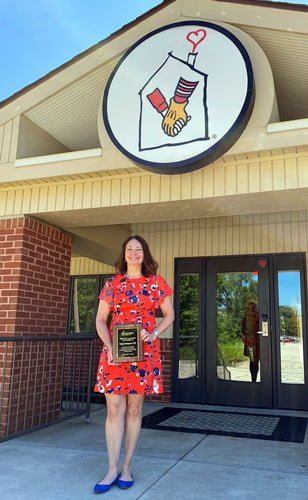 Today, all of us at Ronald McDonald House Charities of Central Illinois lean on these wise words of advice from Dr. Seuss. It is with heavy hearts that we prepare for the departure of our CEO Kelly Thompson. Kelly, who has been our leader and dear friend for nearly a decade, is embarking on a new adventure and beginning her next chapter. For that, we have the utmost admiration, understanding, and happiness.
While it may be cliché to refer to someone as "one of a kind," that compliment is not lost on anyone that has ever met Kelly. We will always cherish our memories of her, which are far too countless to mention here. What makes Kelly special is not only the time we have spent with her; rather it is her spirit, her very presence, and her tenacious affection for the organization and everyone she encounters. She simply believes that an individual can change the lives of people for the better – something she demonstrates each and every day. It's in her very nature to be kind, compassionate, consistent, and caring, all tinged with great optimism and faith.
There are not enough words to adequately articulate our appreciation, affection, and our great sense of loss. What we can say to Kelly is simply, Thank you. We send you and your family off with our very best hopes and wishes, and a reminder to always keep your weather-eye on the horizon.
For all of us at RMHCCI – our staff, Board, volunteers, partners, donors, and friends – we may not be crying because it's over – but to be sure, we are still a little sad. Thank you for being part of an amazing decade of hope with us!