Cookies from the Heart: Made Fresh Every Thursday!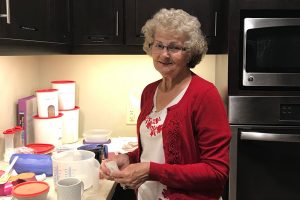 There's nothing more comforting than coming home to the smell of fresh baked cookies. And for Carolyn Dennis, providing those small comforts or touches from home is what it is all about. That's why, every Thursday for the last seven years, she fires up the oven at the Springfield Ronald McDonald House® to make cookies from scratch. Some are old 4H recipes. Some are recipes she's adapted over the years. All are looked forward to by guests… especially House favorites like her cowboy cookies and peanut butter bars.
"I started down at the House after I moved to Springfield," shared Carolyn. "I was retired and recently widowed and a friend of mine recommended volunteering at the House. So I went down and filled out an application. They paired me with Reba. For many years, we worked together; I did the baking and she did the cooking."
Sound like something you'd like to do? Or maybe you'd like to help us pay-it-forward in another way? We love our volunteers! So, here's what you need to do to help out. Head over to our website and sign up to be our Guest Chef or download our volunteer application and tell us what you'd like to do. Simple as that! And yes, groups are welcome, too!
We can't do what we do without YOU!
You can provide Halloween treats for RMHCCI Springfield!
Get your tricks, treats and costumes ready… it's time for Halloween!
While you're out (or if you end up with a bag or two too many), consider dropping some candy off at the Springfield Ronald McDonald House.  We love to put out free snacks for our families while they are staying here. And let's face it… a world with chocolate is always just a little bit brighter.
A few guidelines for candy donations. All candy/snacks must be:
commercially made,
pre-packaged, and of course,
unopened.
Now, go forth and collect your goods. Happy Halloween!