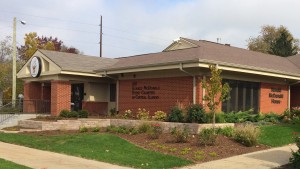 The Ronald McDonald House® in Springfield, Illinois opened its doors on February 15, 1986. In 2014, the House underwent the "Labor of Love" expansion and renovation project and re-opened in October 2014. This was the first complete remodel of the House since it opened nearly 30 years ago.
Located in the heart of Springfield's medical community, we've provided more than 10,000 families with a "home away from home" while their children are receiving medical treatment.
We're here to offer a good night's sleep, a hot meal and everything needed to keep the lives of the parents as simple and stress free as possible while they tend to the important task at hand - devoting all their love, support and energy to helping their child get well.
We have a fully equipped kitchen, comfortable living and dining common areas, laundry room, 14 bedrooms each with a private bath and many other amenities. A large pantry is always stocked with food available to all guests at no charge, and guests have access to food storage of their own.
The House is owned and operated by Ronald McDonald House Charities of Central Illinois, a local non-profit organization. We operate through a small paid staff and an all volunteer Board of Directors consisting of local health professionals, McDonald's Owner/Operators and community business and civic leaders.
Milestones:
1981 - Research shows that an average of 45 children from outside the Springfield, IL area are being admitted each day to Springfield hospitals.
1982 - The Junior League of Springfield begins working with local citizens to establish a Ronald McDonald House in Springfield.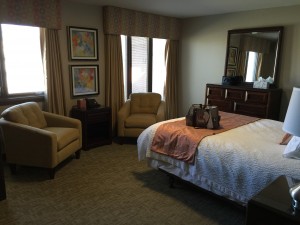 1984 - A capital fundraising campaign begins for a Ronald McDonald House in Springfield.
1985 - $550,000 is raised in a capital campaign, land is leased from St. John's Hospital and groundbreaking for a 6,500 square foot building with eight guest rooms occurs.
1986 - Ronald McDonald House in Springfield opens in February.
1993 - The "Springfield Ronald McDonald House" officially becomes "Ronald McDonald House Charities of Central Illinois (RMHCCI)" and starts offering grants to non-profits whose programs directly improve the health and well-being of children.
2001 - RMHCCI remodels with a 4,470 square foot addition, adding four bedrooms and bathrooms, expansion of the kitchen, dining and lower level, and added an elevator.
2006 - RMHCCI Board of Directors votes to waive the fee for families to stay at the House.
2011 - RMHCCI celebrates 25 years of serving families.
2012 - An outdoor area at RMHCCI is created as a playground for children of all abilities and dedicated to RMHCCI guest, Tess Drainer. RMHCCI passes its first ever strategic plan outlining goals for the next three years to expand programs and serve more families.
2014 - First ever complete remodel of the 28-year old House. Two bedrooms are added, to total 14 bedrooms, and major updates are giving to the kitchen and common areas.