Follow Our Social Channels
Help us spread the word of our All-In Donation Day by sharing this content on your socials!
Update your cover photos and profile photos and share images on Facebook, Twitter, and Instagram before and during the day. Right click on any of the images below to save and use.
Social Media Cover Photos
FB Banner - (click for full size image)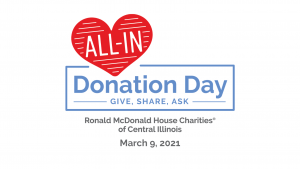 Sample Social Media Copy to Share
Prior to March 9:
On Tuesday, March 9:
Give a Cash Donation
https://rmhc-centralillinois.org/allinday/
Purchase Wish List Items
https://rmhc-centralillinois.org/allinday/
Social Media Images to Share
Facebook (4:3) - (click for full size image)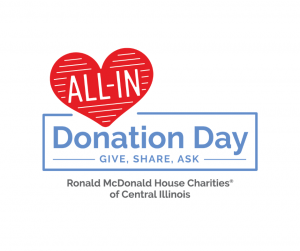 Instagram (square) - (click for full size image)